Today I decided to give out two tips. The first one is actually a finish used on clothing but I thought it would also make a great border embellishment on a quilt.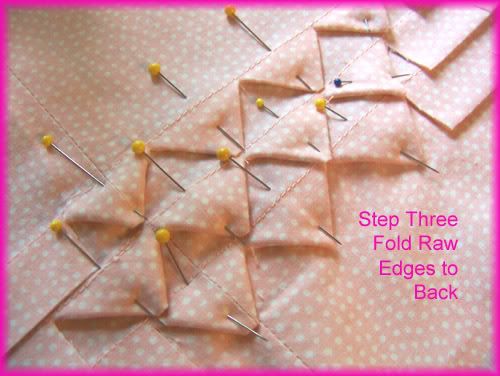 The "shark teeth finish" is typically a clothing design but can you just imagine this look all around a quilt border? I think this would look beautiful on an heirloom quilt in a shabby chic design. I hope you give this technique a try, I think I certainly will use it sometime soon.
The second tip is how to create a variety of looks using a simple striped fabric block. It's all in how you cut it out and reposition it.
Using striped fabric you can create some beautiful block designs with a lot less sewing.
Create this beautiful Seminole Patchwork design by simply offsetting the stripes. You will find a variety of design combinations to use in this tutorial.
Let your imagination run wild and see if you can incorporate the "sharks teeth" into your sewing or quilting or create a beautiful quilt with striped fabrics. I hope that somewhere along your travels down " life in the craft lane" you are able to use these ideas. Drop in and share your thoughts or if you have been looking for a tutorial on a particular technique just let me know and I will help you search the internet. It could be something others have been looking for also.